Cryptonator – Do not fall for fakes
You probably could have heard the ringing word somewhere. "Cryptonator". A lot is connected with it single-type fraudulent sites. But in reality there is only one real. It is not very clear why the scammers decided to create a dozen clone sites, based on this crypto wallet. Whether this is the antics of competitors, or just typical speculators. Well then. Let's take a look at the project itself. Let's go!
Official site
Contacts
On this resource you will not be annoyed by the animated widget with a "bell", you will not find online support or chat. All sorts of answers to questions are in the appropriate section. And indeed, a lot of answers. But if you still could not find your answer (which is strange), you can fill feedback form and experts will answer you within a certain time.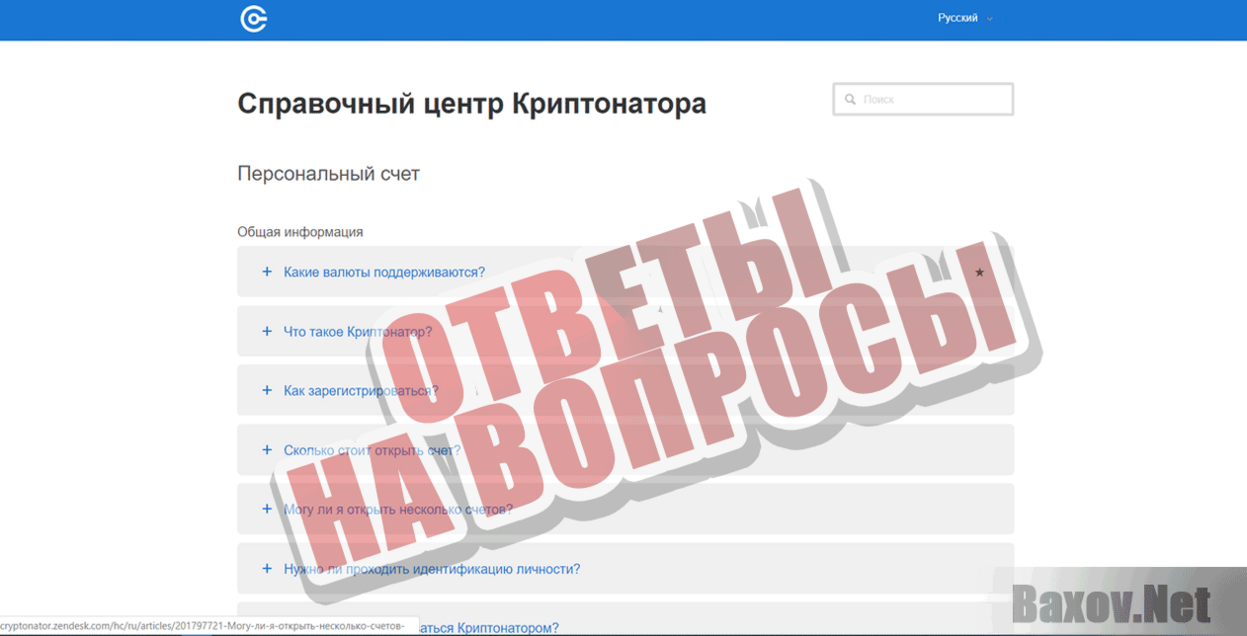 Of course lack of online technical support may lead to negative thoughts. This, by the way, will be reasonable. After all, the trust to work with the wallet must be earned, and not refer to the text help center.
affiliate program
Sentence
Kryptonator is the most popular Bitcoin online wallet in Russia, which allows you to work with various cryptocurrencies, such as Bitcoin and others. You can safely store, quickly and simply receive, send and exchange Bitcoin and other cryptocurrencies using your personal account. Access to a personal multi-currency account is available around the clock, from anywhere in the world, both from a computer and from a smartphone.
The first thing I want to mention is presence of the app in google play. The icon on the site is really not an imitation, you can click on the link and download the kryptonator to your phone. On fraudulent sites you can not find this.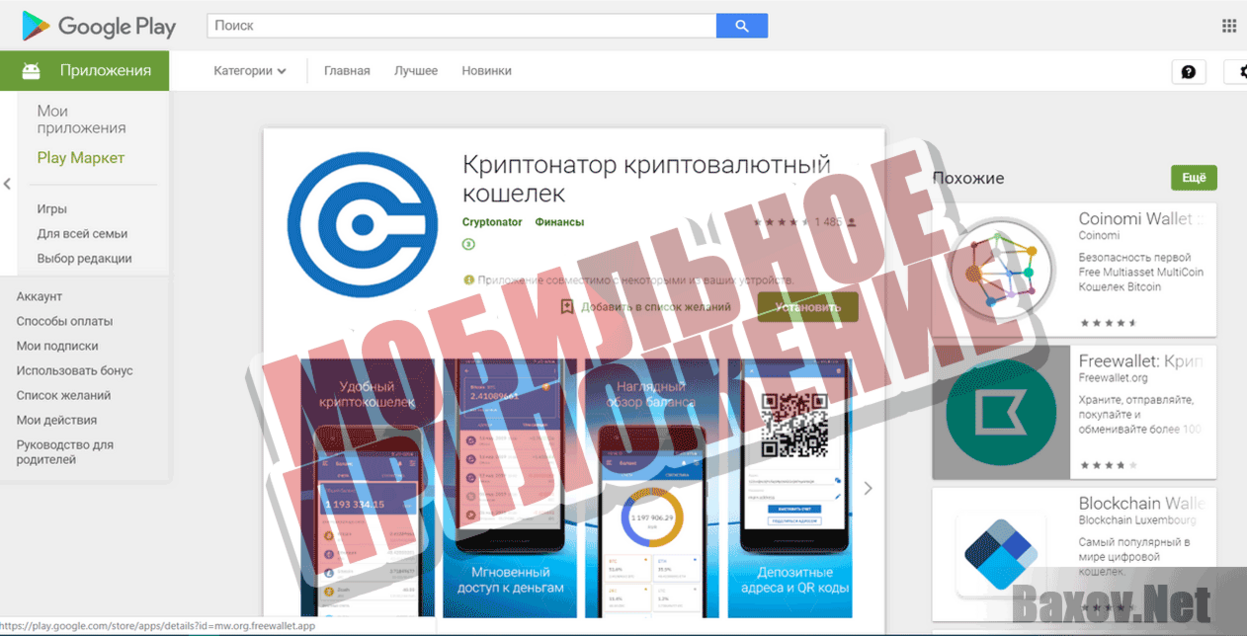 What is the essence of this wallet? You You can directly exchange cryptocurrency for rubles or vice versa. From the application or website to pay for various services of communication, games, Internet. Exchange rate is updated every minute.
Platform Terms
In order to fully use the services of the cryptograph, you need to connect two-factor authentication. Connection is possible through:
Google authenticator
Telegram
SMS notifications
Two-factor SMS authorization is not recommended, because Delivery codes depends on the work of mobile networks.
Let's take a look at the commissions:
Bitcoin – 0.00020000 BTC
Bitcoin Cash – 0.00010000 BCH
Bytecoin – 0.10000000 BCN
Dogecoin – 1.00000000 DOGE
Dash – 0.00100000 DASH
Ethereum – 0.00100000 ETH
Ethereum Classic – 0.00100000 ETC
Litecoin – 0.00100000 LTC
Monero – 0.02000000 XMR
Peercoin – 0.01000000 PPC
Ripple – 0.10000000 XRP
Zcash – 0.00010000 ZEC
When sending funds commission is charged from your accountand not from the amount of transfer. In the sending form, the Kryptonator will automatically deduct the commission amount from your balance, so the balance available for sending is always less than the total balance by the commission amount.
Commissions for the implementation of ruble transfers:
Yandex.Money – 2.9% of the amount transferred
Bank card – 5.9% of the transfer amount
Payeer – 4.9% of the transfer amount
QIWI – 4.9% of the transfer amount
If you want to change moneythen it can be done is free in the appropriate tab. The actual exchange rate is written there.
Minimum amount for transfer:
Cryptocurrency
Bitcoin – minimum 0.0001 BTC
Blackcoin BLK – minimum 0.1 BLK
Darkcoin DASH – minimum 0.01 DASH
Dogecoin DOGE – minimum 100 DOGE
EMC Emercoin – Minimum 0.01 EMC
Litecoin LTC – minimum 0.01 LTC
Paycoin XPY – minimum 0.1 XPY
Peercoin PPC – minimum 0.1 PPC
Primecoin XMP – minimum 0.1 XPM
Reddcoin RDD – minimum 1000 RDD
Vertcoin VTC – minimum 0.01 VTC
Rubles
On Yandex.Money – minimum

10 rub.

To a bank card – minimum

1000 rub

.
To a bank account – minimum

1000 rub

.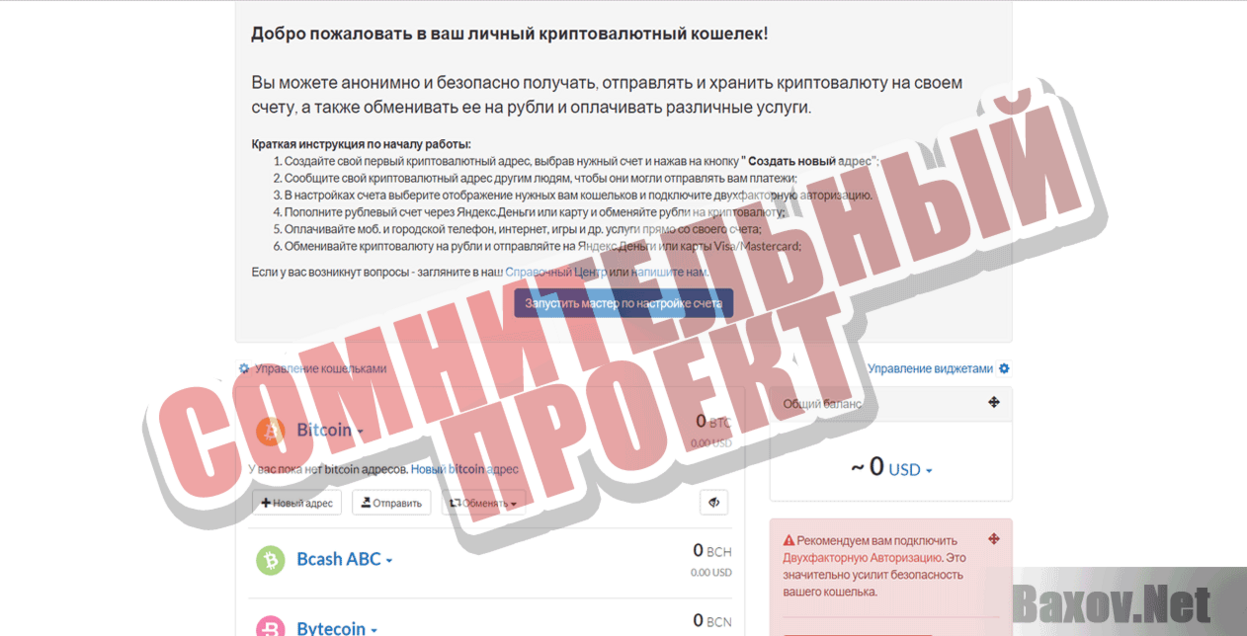 Functional
As we wrote earlier, the project has convenient mobile application. Yes, and the site as a whole has a good interface. All answers are easy to find. They are stated in accessible language and understandable to everyone.
The trust
Reviews on the Internet are very controversial. In reality There are many wallets with a lower commission and open technical support. There are absolutely all the answers to the questions, but there is no contact information. Wallet is completely anonymous. This is a significant minus.
Many people complain not only about the commission, but also bugs. Payments are hanging tight.
Gentlemen, do not come close to this HYIP, there is no technical support. In principle, the money stuck while replenishing, as not bought out, and they hang for the second month. MONEY hangs (went shorter), technical support is silent. I've got lost (it looks like inquiries), for two months not a single line. In general, tin. NEVER USE A KRYPTONE !!!
If you take a separate site, it works since 2013. The very opening of the wallet occurred in 2014.
Very embarrassed google play replies from Cryptonator. The man complained about the problems, and the organization answered boldly:
I liked the wallet very much. and suddenly, today he refused to convert bitcoins into rubles ..! I had to exchange them first for dollars, then withdraw them to Payeer, exchange them for rubles, and from there transfer them to the poison. And who will now return me all these commission losses ??? Sleep nah!

Cryptonator April 5, 2019

All you had to do was just wait a couple of hours for those to end. work.
And no information about the technical work on the site was not at that time.
Therefore, we can conclude that project is doubtful enough.
Conclusion
It seems that the application on the phone is there, the site is functioning, but the reviews are ambiguous, and technical support is lame, and the commission is higher than that of the competitors.
There is no online support, no email address, no legal details, no privacy policy and user agreement in English. Somehow all this is very confusing.
All we can say is do not fall for fraudulent sites, the Kryptonator has the only site. Well, only you decide to work with this resource or not. Good luck!