Exmo. Cryptocurrency Exchange Review
Cryptocurrency exchange Exmo enters into TOP 25 the largest cryptocurrency exchanges by daily trading volume. The exchange began work in 2013. Platform founders considered to come from the CIS Ivan Petukhovsky and Pavel Lerner (Paltiel Lerner, Paltiel Lerner). Probably why exchange interface transferred to 11 languages, among which Russian and Ukrainian.
Project name
Exmo site address
https://exmo.com

https://exmo.me
Daily trading volume
4,693 BTC ($ 29,726,715 USD)
Supported currency and cryptocurrency
Exchange Exmo supports 5 fiat, 18 cryptocurrencies and 1 domestic currency (as of June 2018)
USD – Dollar
EUR – Euro
RUB – Ruble
PLN – Polish Zloty
UAH – UAH

Bitcoin – (BTC)

Bitcoin Cash – (BCH)
Bitcoin Gold (BTG)
BitcoinZ (BTCZ)
Dash – (DASH)
DATAWALLET (DXT)
Dogecoin – (DOGE)

Ethereum – (ETH)

Ethereum Classic – (ETC)
EOS
Helbiz (HBZ)
KickCoin (KICK)

Litecoin – (LTC)

Primecoin – (XPM)

Ripple – (XRP)

Tether USD – (USDT)

Waves

Zcash – (ZEC)

EX-CODE is the domestic currency in effect on the cryptocurrency exchange

EXMO
Information about the Exmo project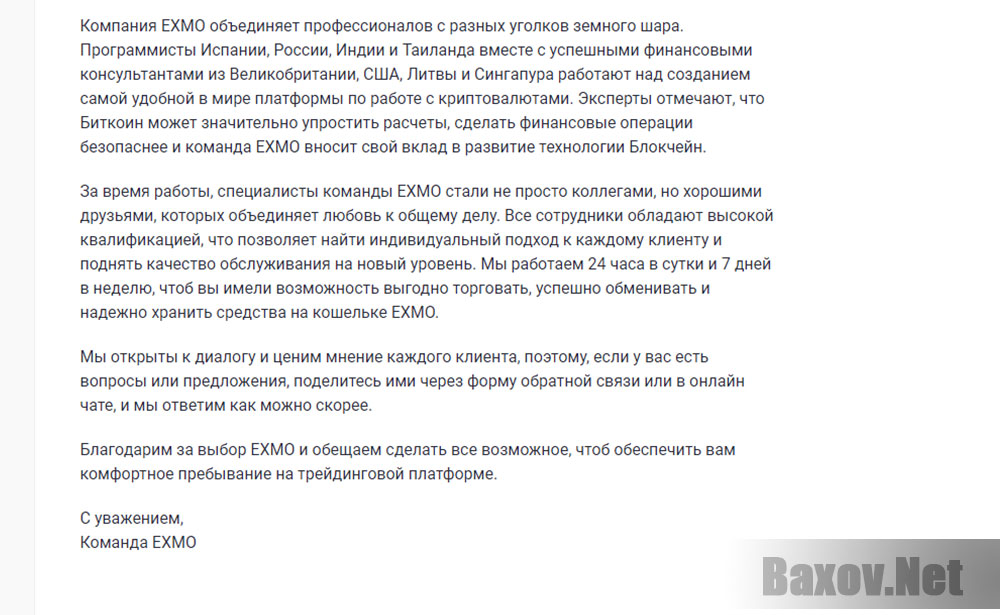 Generally, information about online stock exchange more than enough. EXMO Finance LLP – the legal name of the company being owner of the exchange. Company works in accordance with the laws of England and Wales and registered May 19, 2014 under No. OC393235 by the address – 49 Station Road, Polegate, East Sussex, BN26 6EA. But despite foreign roots, basic operations implemented in Ukraine.
TeamAccording to the company, varied. Programmers of Spain, Russia, India, Thailand, financial advisors represented by countries such as England, USA, Lithuania and Singapore.
User support at – (email protected). In addition, there are email addresses for
Cooperation issues –

(email protected)

.
Media and Advertising –

(email protected)

.
Finance Department –

(email protected)

.
According to the competition Btc Awards 2017 CIS cryptocurrency exchange EXMO recognized the best exchange in 2017. Celebrated her leadership on trades Bitcoin, Litecoin and Dogecoin. Exchange EXMO works like with cryptocurrency and currency pairs. Platform has 2 trading modes:
Our platform contains two trading modes:
one. Exchange Mode ideal for those who want to buy or sell a cryptocurrency, but:
– use this platform for the first time in my life and are not yet familiar with all its features;
– Not interested in trading and just want to invest in Bitcoin or other cryptocurrencies, because they believe that in several years these cryptocurrencies will grow in value;
– They do not want to understand in the details of the process, but they think that they can predict changes in exchange rates and want to make money on it.

2 Trading Mode intended for those who want to buy or sell cryptocurrency / fiat money, and who have trading experience on similar platforms or which at least carefully read the FAQ. They very interested in trading, as well as additional tools for in-depth trading.
Registration at Exmo
Registration at the exchange EXMO simple and fast.
After registration be sure to activate your account – to the specified mail a letter will come with active link. Then can get to work. He is enough easy to understand. If noticed, the platform allows trade,
to exchange,
and use as storage.
Domestic currency EXMOEX-CODE on the exchange
Cryptocurrency platform EXMO refused from holding public stage ICO. As stated Ivan Petukhovsky
Stable positive dynamics of all financial indicators of the platform and an incredible increase in the number of users of the platform (currently we have more 1,500,000 tradersevery day on EXMO registered more than 10,000 people), allows you to fully ensure the implementation of the business plan for the launch of new products and services from its own funds. And given stricter regulation from the financial and supervisory authorities in the field ICO and cryptocurrency, EXMO cannot guarantee the absence of unexpected changes in the legal framework, which, in turn, may result risks for our investors. This situation is unacceptable for us, because safety and security our partners for us comes first.
EXMOEX-CODE used only inside the platform.
Input / Output on the Exmo Exchange
To conduct the appropriate operation is necessary pass verificationafter which you can replenish
your balance. Commission for the conclusion of transactions – 0.2%. Behind input and output cryptocurrency exist various commissions. WITH commissions and limits for can familiarize link – https://exmo.me/ru/docs/fees.
Interesting innovation on the exchange is the method Input Output by means of EX-CODE. It is convenient and profitable, because Commission NO. EX-CODE represented in USD, convert it can be on any exchange cryptocurrency.
Reviews about the exchange Exmo
Oddly enough, all reviews about this exchange either neutral, either positive. No negative on the Internet. Are marked some flawsbut they are mostly associated with very harsh conditions user verification. But maybe so be it?
Well, now I want to listen Your opinion about cryptocurrency exchange Exmo.
The project was found to cheat the rating! All fake voices have been deleted!